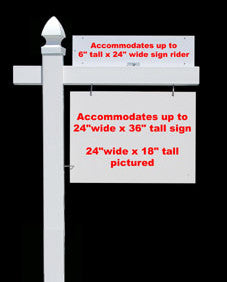 Extended Service Area Post and Sign Installation: (Utah County cities of Springville, Spanish Fork, Mapleton, Benjamin, and Salem, within city limits)
Regular price
$ 90.95
$ 0.00
Unit price
per
High Gloss White VInyl Post Install with Gothic-Style Post Cap and Rider Clip

Please note:
The Extended Service Area includes ONLY Springville, Spanish Fork, Mapleton, Benjamin, Salem, within City Limits.
No free maintenance trips are made for these installs and installs/removals may require a weekend. 



Price includes installation and removal. (1 trip each)
Agents are responsible to notify us for removal of posts on Sold, Cancelled, Withdrawn, Active No-Show, Off Market or Expired listings in a timely manner, and are responsible for replacement costs of missing, stolen, or damaged posts (excluding normal wear).  Installs are for Active, being shown, listings on MLS only.
 Listings where a post is installed for over six months will incur an additional renewal cost.