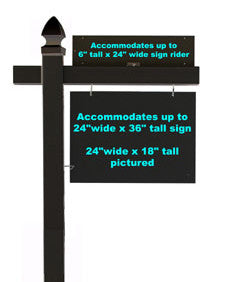 "Classy" Black Vinyl Sign Post (Add-On to your Install)
Regular price
$ 10.00
$ 0.00
Unit price
per
Make your sign stand out with a Black Vinyl Sign Post!
Identical to our High Gloss White Vinyl posts, only Black.
First, order your Post and Sign Install in the applicable County and then add this additional item to your order.
Please note that we will not install Black Posts on Lots, or Homes under Construction.
This item is not for sale but for use with a post install.
Agents are responsible to notify us for removal of posts on Sold, Withdrawn or Expired listings in a timely manner, and are responsible for replacement costs of missing, stolen, or damaged posts (excluding normal wear).
Listings where a post is installed for over 9 months will incur an additional renewal cost.